I've made a career out of restoring old cars, muscle cars and classic vehicles, and I take pride in my ability to be able to take these old beauties and restore them to their former glory.
Some might view their old classics as worthy of the junk heap, but if you are a car enthusiast like me, you can always visualize how gorgeous those babies can look with the right touch of TLC.
I'm not the type to brag about my abilities. I just love a nice looking ride, and the feeling that I get from helping others to feel the joy of restoring their treasured oldies into rides worthy of the showroom floor all over again.
In case you weren't aware, my work has even been featured in Hot Rod Magazine, for the auto restoration job I did with a beautiful Rokiter. In case you haven't seen that car, you can view it here: Rokiter Restoration Job featured in Hot Rod Magazine
My 1991 Jeep Wrangler was destined for the junk yard. When I first purchased it, it didn't look like much. Just a rusted out shell. Here are some before and after pics of the restoration work I did.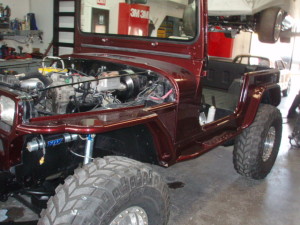 Still a work in progress, but so much nicer than the rusted out shell I started with. I'll make sure to update with more photos when she's done!
Looking for an auto restoration and repaint shop? We'd love to help you out.
Give us a call at 805-650-3243
Scott